大黒運輸株式会社経営理念
~Trust is the first step to all~

Daikoku co.,Ltd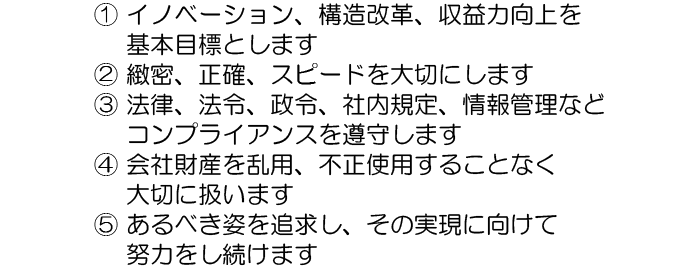 ---
"Trust is the first step to all"
(For the customers)
We will earn the trust of our customers by providing reliability and reassurance, and grow with them through innovation and action.
(For the employees)
We will build employee relationships based on trust and appreciation.
Our goal is high employee engagement and satisfaction.
(For the community and social world)
We embrace our social responsibility and take pride in supporting our local community. We strive to be an example our customers can trust and follow.
To achieve our commitment above;
(1) We do not discriminate based on race, religion, gender, beliefs or disabilities.
We also stay out of any antisocial force.(2) We will provide a great working environment for our team.(3) We will act with honesty, honor and integrity.(4) We will embrace a spirit of growth based on high ideals and foresight.(5) To execute
① We must embrace innovation, structural reform and capacity improvement.
② We will focus on extreme precision, accuracy and swift action.
③ We must obey compliance requirements (laws, regulatory requirements,
internal policies and confidentiality.)
④ We will carefully manage company assets and resources.
⑤ We must strive for perfection in our work and our society and pursue it
continuously.